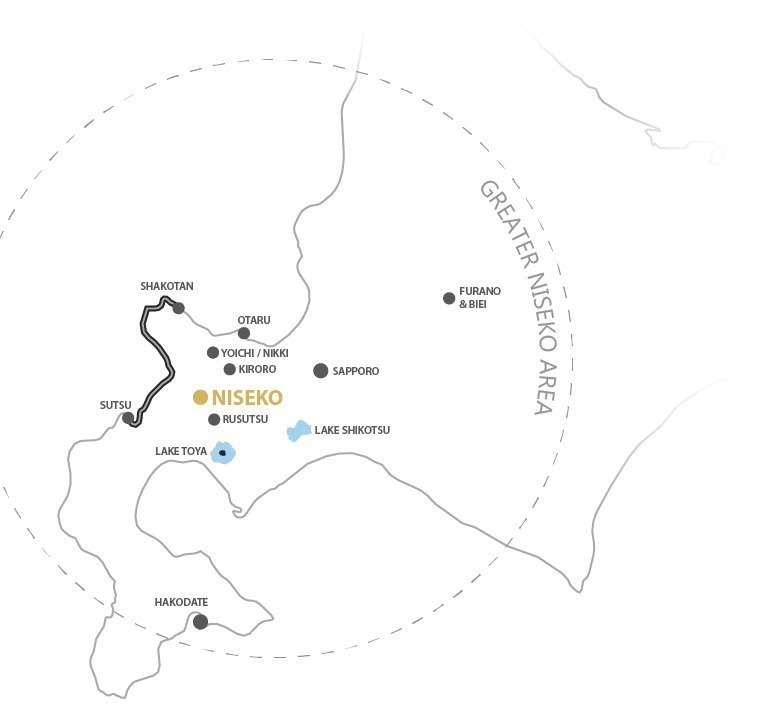 Welcome to the Greater Niseko Area
Discover four seasons of natural glory in the Greater Niseko area.
We've designed this map to show you some of the highlights of each distinct area, all within a few hours drive from Niseko on Hokkaido's wonderfully scenic & safe roads.
This map is a great starter, but as we all know, some of the best discoveries are those we make during our journey's and Hokkaido is brimming with secrets waiting for you to discover.
Click an area on the map to get started...
Shakotan Coastline
Drive time: 1 ~ 2 hours
Striking cliff faces falling into the Sea of Japan make for one of the most dramatic coastlines in Japan, famed for its crystal clear waters. With a lengthy history, the fishing villages dotted along the coastline here serve up mouthwatering seafood that is delivered throughout Japan, including Niseko.
Area Highlights
Sutsu Oysters

One of Hokkaido's oyster-lover hotspots, Suttsu Oysters even have their own festival during the late spring!
Shakotan Peninsula

Follow the dramatic coastline around to it's farthest point and then walk the spine out to where the land falls into the sea.
HAKODATE
Drive time: 3 hours
Widely claimed to have one of the great night views of the world, Hakodate spans a peninsula that leads toward a towering hill at the tip. Whether you take the ropeway, drive, or hike, the view from the top is something quite special, especially during the summer months when fireworks are let off over the bay.
Area Highlights
Night View

Hakodate's night view is breathtaking, particularly around sunset when the light plays across the peninsula and the city's lights are turned on.
Seafood

Otaru & Sapporo can't take all the glory here; Hakodate is considered the king of squid & crab, but the sushi is equally a treat.
History

Hakodate also shares a similar cultural legacy with Otaru & Sapporo, and there is a rich European & Russian Orthodox representation in the architecture of the city.
Otaru
Drive time: 1 hour
A nod to Japan's European & Russian trading history, Otaru is a delightful coastal town that has become a mecca of sensational seafood cuisine & glass blowing. The central canal is the focal point, but don't be afraid to venture down the side alleys where some of the town's best kept culinary secrets await!
Area Highlights
The Canal

The center point for Otaru's Candle Festival (held during Sapporo's Snow Festival), the canal is a romantic glimpse into the multi-cultural past of the city, framed on each side with turn-of-the-century stone buildings, housing mouth-watering dining establishments.
Architecture

Proud of its architectural heritage, central Otaru's classic Victorian architecture keeps your eyes to the sky, with textures, colors & materials rare to Japan.
The Sushi

No trip to Otaru is complete without treating yourself to the freshest sushi you could imagine. A showpiece of Japan's most famous cuisine, dining in Otaru is a savory experience unlike many other.
Yoichi & Nikki
Drive time: 45 minutes
Elevated to world attention for its internationally award winning whisky, this area has long been known by the Japanese for it's sumptuous apples and fruit-picking, along with its burgeoning wine industry.
Area Highlights
Nikka Whisky

Home of the first whisky to win best single-malt whisky outside of Scotland (and then many more awards after which), the museum here is a fascinating insight into its founder, Masataka Taketsuru, and his Scottish wife, along with the production of the famed drop.
Fruit Picking

Enjoy a day out under the blue sky picking juicy, fresh fruit of all varieties, to be duly munched on until you've had your fill!
Skydiving!

Not for the faint of heart, but certainly worth the spectacular rewards the view affords if you have the stomach, this brand new activity is bringing in thrill seekers from around Asia!
Kiroro
Drive time: 45 minutes
Set amongst a beautiful valley, Kiroro resort is one of the new darlings of the greater Niseko area. Comfortably close for a day trip from Aspect, Kiroro offers a delightful family-friendly atmosphere and terrain, with one of the most progressive and well operated side-country access programs in Japan, opening up exciting tree skiing opportunities. The summer is also a highlight with its many green season activities.
Area Highlights
The Ski Resort

Kiroro has exploded onto the scene in the last few years, with a famously consistent high quality snowfall, smooth lifts and terrain access, and a fully contained resort area set amongst pristine nature. The terrain is suitably balanced and offers a variety of exciting technical options. With such a short drive from Aspect, this is a must visit resort during your stay!
Niseko
The heart of it all; Hirafu village, and your accommodation with us in Aspect, offers an exceptional location to experience both highlights in the immediate Niseko area, as well as the ones listed here.If you'd like to learn more about the immediate Niseko area, visit our 'Niseko Area Highlights' map here</a
Rusutsu
Drive time: 45 minutes
Sensational tree skiing, considered Japan's best, allows for a wonderful alternative resort comfortably accessible from Aspect during your visit. Rusutsu resort caters to all abilities with a family friendly atmosphere in resort and some steep, technical skiing throughout the expansive terrain.
Area Highlights
The Ski Resort

Rusutsu resort is an expansive resort, offering many days of enjoyment only a short drive from Aspect. With a well balanced mix of runs, it caters well to families and groups of varying abilities and is a fully contained resort in and of itself.
Lake Toya
Drive time: 1 hour
Host of events ranging from the G8 Summit, through to IronMan & many other endurance races, Lake Toya is an pristine natural wonder, with deep, clear water and its striking landscape. Perfect for a days drive, or cycle, gently wind your way around the lake stopping at some of the delicious eateries dotted around the waters edge, and rejuvenate at the end of the day with a soak in one of its many famed hot springs.
Area Highlights
Shōwa-shinzan

A fascinating, and very recent, monument to the areas geological character, this 400m mountain was pushed up from the ground in the middle of last century.
The Lake

With its prominent central island, the caldera lake itself is the true highlight of the area, and seems to take on a different form from the many angles as you make your way around.
Mt. Usu

The main volcanic formation of the area, easily accessible via a ropeway with a comfortable walking track around the rim.
The Windsor

Perched atop the very rim of the greater caldera lake, the Windsor is adorned with exquisiteness throughout. Golf, dining and hot springs are all available.
Sapporo City
Drive time: 2 hours
Shopping, divine cuisine, internationally acclaimed cultural events & more, Sapporo is a city that has it all, no matter the season. Sapporo is a delightful drive through classic Hokkaido mountain passes, and an easy day trip any season.
Area Highlights
Shopping

A shoppers heaven with all major international brands represented, Sapporo offers convenient, centrally located shopping complexes and connecting underground walkways so you can get some retail therapy even in winter.
Snow Festival

A true winter wonderland, Sapporo comes alive with color and energy in the midst of its winter with the world renowned Snow Festival. Towering sculptures of all sorts line the length of Sapporo's central Odori Park, with food stalls & various activities.
Glorious Cuisine

Niseko is always going to be tough to beat, but Sapporo's dining scene gives it a good shot. With an almost endless array of dining options covering all the world's foods, and of course showcasing Hokkaido's best produce.
Culture

With art gallery's, museums & Japan's revered shrines and temples aplenty, there's something for all interests and ages. And of course, if there's a good flick on, Sapporo's IMAX is a great treat at the end of a day
Lake Shikotsu
Drive time: 2 hours
Expansive nature & a fascinating geological history stretching back in the ages captures the spirit in this national park area that is a comfortable drive from Niseko, or can be accessed on your way from the airport. The water is strikingly clear, but immensely deep.
Area Highlights
Visitors Area

One of Japan's deepest & largest lakes, Lake Shikotsu is the result of a series of huge volcanic eruptions, similar to its sibling Lake Toya. The Information Center and Bird Viewing Area on the southern side of the lake are an excellent spot, with spectacular views and both dining and hot springs to fill out your trip.
Furano & Biei
Drive time: 3.5 hours
Flower fields & rolling hills surrounded by Hokkaido's biggest mountains have ensured central Hokkaido has won the heart & imagination of every traveler & artist who has passed through this area. Delightful cafe's on quiet country roads are framed by vistas picturesque enough you could be mistaken for thinking you were looking at a painting; Visit here for the many attractions or for the drive alone.
Area Highlights
Tomita Farm Lavender Fields

Internationally acclaimed flower fields & lavender produce
Biei Fields

A dream-like drive through rolling farmland; a mecca for photographers around the world
Delectable Dining

Michelin star dining (Restaurant Asperges) wonderfully captures the areas many flavors. Make sure you drop by some of the many cafes you pass on your road trip too for some hidden secrets!